WHY DID YOU MAKE THIS FILM ?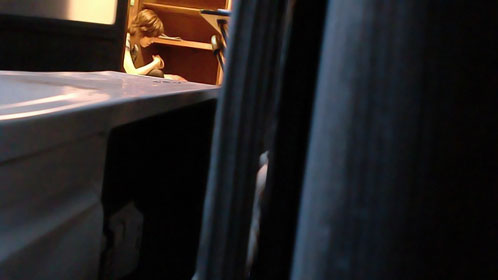 I was in Japan for one year at university (from September 2009 to September 2010) and it was absolutely out of the question to leave the country without having shot a fiction in that country.

In early January 2010, I went to a concert in Shibuya (Tokyo), I shot some part of the live concert with my small compact photo camera hidden in my pocket. I wasn't even looking at what I was shooting. When I got back home, I watched what I shot and, when I saw those peeping-film-like videos, I thought it was visually extremely powerful; it could become a very interesting concept as a movie.

And I remembered an idea I had several years before about a guy in love with a girl who doesn't know it and he spies and shoots video of her without her noticing it… A kind of espionage love story. There are sometimes, in movies, some "voyeur" shots, some shots took, for example, hidden outside a window, spying someone inside, and giving this feeling that we're peeping to something we shouldn't. Brian de Palma did it quite a lot. It's also often done in 80's horror films.

And I thought it could be really interesting to make a film only made with videos shot through the camera of a guy who, at first, shoot in a contemplative and poetic way things of his lonely life, and then, probably out of boredom, let himself crossing the line not to be crossed: to shoot someone he likes without her knowing. At first, with some distance, and then, little by little, forgetting totally the limits of privacy and intimacy…

I wanted, with that film, to raise a question: in this world where anyone can upload images/videos of everyone without permission, will "privacy" or "respect to one's image" still mean something for a long time?

The film raises that question, maybe in a puzzling way, or even a disturbing way, but at least it raises the question in a very clear way. It brings no answer, no moral. It's not its purpose. It lets anyone find their own answers.